Title:

The Break-Up Artist
Genre: Young Adult-Contemporary
Publisher:
Harlequin Teen
Release Date: May 1, 2014
Recommended for: People who loves to read realistic stories that deals with friendship and love
.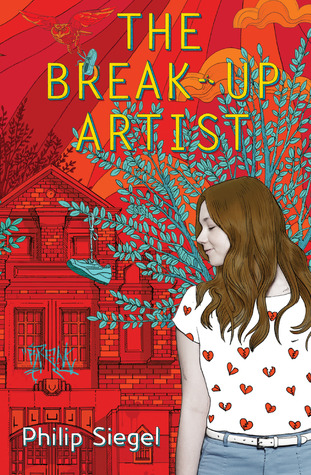 GOODREADS SYNOPSIS:
Some sixteen-year-olds babysit for extra cash. Some work at the mall. Becca Williamson breaks up couples.

Becca knows from experience the damage that love can do. After all, it was so-called love that turned Huxley from her childhood best friend into a social-world dictator, and love that left Becca's older sister devastated at the altar. Instead of sitting on the sidelines, Becca strikes back—for just one hundred dollars via PayPal, she will trick and manipulate any couple's relationship into smithereens. And with relationship zombies overrunning her school and treating single girls as if they're second-class citizens, business is unfortunately booming. Even Becca's best friend, Val, has resorted to outright lies to snag a boyfriend.

One night, Becca receives a mysterious offer to break up the most popular couple in school: Huxley and the football team's star player, Steve. To succeed, she'll have to plan her most elaborate scheme to date—starting rumors, sabotaging cell phones, breaking into cars…not to mention sneaking back into Huxley's good graces. All while fending off the inappropriate feelings she may or may not be having for Val's new boyfriend.

No one said being the Break-Up Artist would be easy.
The book talks about Becca Williamson, a sixteen-year-old girl who breaks up couple for a hundred dollars via Paypal. The work gets risky and thrilling when a client asked Becca to break up Huxley and Steve, the most popular couple in school.
I love the main character, Becca. She's a simple teenage girl who experiences normal teenager problems and she has a witty personality. I can tell that she's a good sister and also a great friend and she's a real person, she gives out her honest opinions even though she knows that most people won't take her side.
This book showed me different opinions about love from different types of people. Opinions from the single, in a relationship, and married people. I love this book because it seemed realistic, the events that happened in this book happens in real life.
I love that this book didn't just focus about love, it also showed me the importance of friendship
. Not just because you have a boyfriend, you tossed away your friends like they weren't a part of your life. You should always remember that they were there when no one else was.
I really wanted to read this ever since it was released. The title and the synopsis caught my attention so, I gave it a try and voila! I liked it. The concept was good and overall, it was fantastic. It was fast-paced and Becca is relatable narrator. This book is TOTALLY worth reading!
QUOTES I LIKED:
"Being single is not a death sentence."
"You want one but you don't need one."
"So, you guys are official. Already. After one diet coke."

"Once people get into relationships, friends and rational thought get tossed aside."
"You don't need a boy. The only thing you need are oxygen, food, water, and a dozen pairs of shoes."
"Whenever somebody wants to get out of a relationship, but they don't want to say the real reason, they use the love excuse. How can such a strong feeling just go away? It's not a cold."
Totally worth reading!