Genre: Young Adult - Mystery
Publisher: Sourcebooks Fire
Release Date: October 1st 2013
Recommended for: people who want to read a good book full of mystery and intrigue.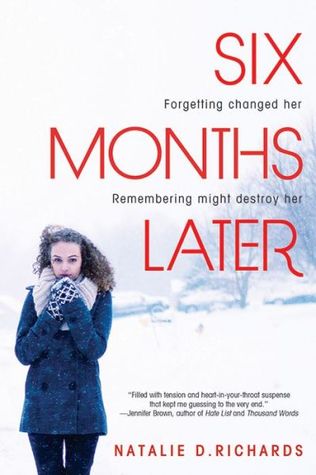 GOODREADS SYNOPSIS:

She has everything she's ever wanted. But not her memory...

When Chloe fell asleep in study hall, it was the middle of May. When she wakes up, snow is on the ground and she can't remember the last six months of her life.

Before, she'd been a mediocre student. Now, she's on track for valedictorian and being recruited by Ivy League schools. Before, she never had a chance with super jock Blake. Now he's her boyfriend. Before, she and Maggie were inseparable. Now her best friend won't speak to her.

What happened to her? Remembering the truth could be more dangerous than she knows...
So. Many. Feels.

This book is seriously CREEPY (in a good way.) The plot reminded me of the Djinn episode of Supernatural without the supernatural aspect of course, where Dean suddenly wakes up living the life he has always wanted.
In Six Months Later, we have Chloe.
She cannot remember the last six months of her life and suddenly, everything seems perfect.

The story started immediately. No unnecessary description and/or fillers. The pacing was spot on.
There was
never a dull moment
in this book. All through out the whole reading experience, I only got one thing my mind,'
WHHHHYYYYYY

?!'
I have an attention span of a goldfish, but on rare occasions, I devour books until I figure out what happens!
I could not stop turning pages. I HAD TO KNOW WHAT HAPPENED.
Me: Chapter 2 -- Ooooh, *
turns page
*
an hour later
Me: Chapter 21 (How did that?
*
one more chapter
*)
Me: Chapter 22
*
one more chapter
*
I kept saying one more chapter until there was no more chapters. (Magic!)
I find it realistic. If I were Chloe, I would do the same. She really did not openly admit that cannot remember the last six months. I, too, would be paranoid and would not know who to trust.
I can seriously imagine a movie version while I was reading this.
Dialog is so natural, I was not just reading the conversations I was hearing them. S
ix Months Later is a suspenseful tale that keeps you on the edge of your seat.
5 hearts!
It will keep you turning the pages until the very end.
Kept me guessing till the end! Not even an understatement. Go. READ. It!