Hi Troglodytes!!!
Do you love Christmas? It's officially 99 days before Christmas. And I have been always a firm believer of
"promote what you

love

"
. With that being said, I present a giveaway (YAY! *throws confetti*) I will be giving away copies of books that I love. I'm not really good with long messages. I'll try to explain the mechanics and whatnot in details. Yes, you can join BOTH giveaways! If you do have questions, please free to contact me or check my
giveaway policy
. :)
First off, the first rafflecopter is a flash giveaway so it will only run for a limited time. I will give out one copy of
Find Me (Find Me, #1)
by
Romily Bernard.
But Remember Me, the sequel, will be out by 9/23. Add it on your wish list and Goodreads TBR!
This contest is open

INTERNATIONALLY

since I will be giving an ecopy.
Keep those entries coming. You can tweet daily about the giveaway!
Now to the second giveaway, this one will be longer than the first one. There's a twist!!! The catch is...for every 500 entries , I will add another book prize. Be sure to share so that there will be more prizes to choose from!!!
Current prize...
Prize #1:
Pieces of Olivia
by
Melissa West
Olivia Warren used to be a normal girl with a bright future.
But on one fated night, everything changed.

Hiding the scars of her past up her sleeves, Olivia transfers her enrollment from Columbia University to The College of Charleston, determined to pursue her own dreams for the first time in her life.

She intends to allow herself a bit of alone time to heal... that is, until she meets Preston.

Preston is best friends with her roommate, completely hot, and off-limits. But the chemistry between them is instantaneous—and as the pair begins to spend more time with one another, their feelings for each other build into something undeniable, something powerful enough to heal Olivia's deepest scars.

Olivia tries to put her own past behind her and trust Preston, but she discovers that his past might be more present than she ever bargained for…
Unlocked after the giveaway entries hit 501 and beyond...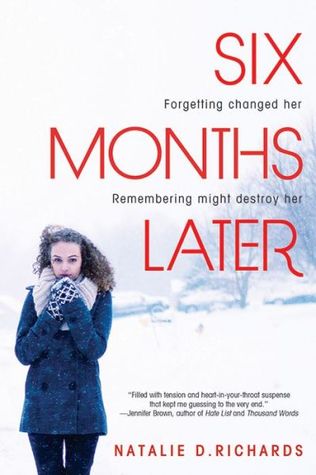 Prize #2:
Six Months Later
by
Natalie D. Richards
She has everything she's ever wanted. But not her memory...

When Chloe fell asleep in study hall, it was the middle of May. When she wakes up, snow is on the ground and she can't remember the last six months of her life.

Before, she'd been a mediocre student. Now, she's on track for valedictorian and being recruited by Ivy League schools. Before, she never had a chance with super jock Blake. Now he's her boyfriend. Before, she and Maggie were inseparable. Now her best friend won't speak to her.

What happened to her? Remembering the truth could be more dangerous than she knows.
Unlocked after the giveaway entries hit 1001 and beyond...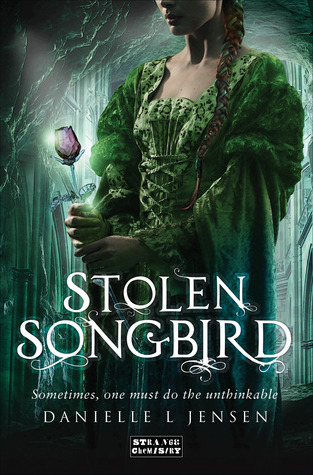 Prize #3:
Stolen Songbird
by
Danielle L. Jensen
I haven't finished this one yet, but Danielle is just the sweetest. She sent me a signed
swag
that I really, really love. ❤
For those who have loved Seraphina and Graceling comes another truly fabulous fantasy...

For five centuries, a witch's curse has bound the trolls to their city beneath the ruins of Forsaken Mountain. Time enough for their dark and nefarious magic to fade from human memory and into myth. But a prophesy has been spoken of a union with the power to set the trolls free, and when Cécile de Troyes is kidnapped and taken beneath the mountain, she learns there is far more to the myth of the trolls than she could have imagined.

Cécile has only one thing on her mind after she is brought to Trollus: escape. Only the trolls are clever, fast, and inhumanly strong. She will have to bide her time, wait for the perfect opportunity.

But something unexpected happens while she's waiting – she begins to fall for the enigmatic troll prince to whom she has been bonded and married. She begins to make friends. And she begins to see that she may be the only hope for the half-bloods – part troll, part human creatures who are slaves to the full-blooded trolls. There is a rebellion brewing. And her prince, Tristan, the future king, is its secret leader.

As Cécile becomes involved in the intricate political games of Trollus, she becomes more than a farmer's daughter. She becomes a princess, the hope of a people, and a witch with magic powerful enough to change Trollus forever.
and many more...
Again,
like the first giveaway, this contest is open

INTERNATIONALLY

since I will be giving an ecopy.
Don't forget to share the giveaway. Comment below on what book would you like to be added on the prize vault!
With that being said, may the odds be ever in your favor. I hope you will like the books like I did.