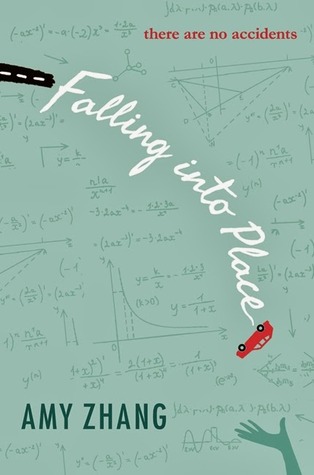 Title:

Falling Into Place
Genre: Young Adult-Contemporary, Romance
Publisher: Greenwillow Books (Imprint of HarperCollins)
Release Date:
September 9th 2014
Source: Copy sent by
Harper360 UK
(Thanks!)
Recommended for: People who loves reading contemporary stories that will make you ugly cry. Trust me, I did.
GOODREADS SYNOPSIS:
On the day Liz Emerson tries to die, they had reviewed Newton's laws of motion in physics class. Then, after school, she put them into practice by running her Mercedes off the road.

Why? Why did Liz Emerson decide that the world would be better off without her? Why did she give up? Vividly told by an unexpected and surprising narrator, this heartbreaking and nonlinear novel pieces together the short and devastating life of Meridian High's most popular junior girl. Mass, acceleration, momentum, force—Liz didn't understand it in physics, and even as her Mercedes hurtles toward the tree, she doesn't understand it now. How do we impact one another? How do our actions reverberate? What does it mean to be a friend? To love someone? To be a daughter? Or a mother? Is life truly more than cause and effect?
A
my Zhang's haunting and universal story will appeal to fans of Lauren Oliver, Gayle Forman, and Jay Asher
.
The story is narrated by a mysterious person, someone who has followed Liz for a very long time.
The narrator
will let you see how Liz lived her life and why she wants to die.
You don't really have to guess who's the narrator though.
This book ruined me... in a good way. I ugly cried and thank God, no one saw me while I cried because it would be so embarrassing. I am so glad that I got the chance to read this book.
It was very heartbreaking, yes, but trust me, it's very beautiful.
A lot of people won't like the main character, Liz Emerson because she's bitchy and she's not honest to herself. She doesn't say what's really on her mind. It's like she's hiding herself from the world. Her character is not very likeable. I didn't like her actions but somehow, I can relate to her. She tried to be strong but deep inside, the sadness is killing her. I can feel her pain and sadness.

The plot was very real, it happens in real life. The plot was built very well. As for the writing style, I was so impressed. This book is well-written. It's very honest and poignant.
Zhang did a very amazing job. She nailed it!

The last few chapters tortured me. I cried a lot. This book is an
emotional roller coaster ride
and just a piece of advice, if you're a softie, don't read this book in public because it will make you ugly cry.
ME AFTER READING THIS BOOK:
•••••••••••••••••••••••••••••••••••••••••••••••••••••••
•••
•
•••
•
Received a copy in exchange for honest review.
•
A heartbreaking but beautiful read!
Troglodyte forever,