LA

I

LAH
by
Nikki Kelly
Release Date: October 7th
Publisher: Feiwel & Friends
Recommended for: everyone who wants a fresh take on vampires and angels.
The girl knows she's different. She doesn't age. She has no family. She has visions of a past life, but no clear clues as to what she is, or where she comes from. But there is a face in her dreams – a light that breaks through the darkness. She knows his name is Gabriel.
On her way home from work, the girl encounters an injured stranger whose name is Jonah. Soon, she will understand that Jonah belongs to a generation of Vampires that serve even darker forces. Jonah and the few like him, are fighting with help from an unlikely ally – a rogue Angel, named Gabriel.
In the crossfire between good and evil, love and hate, and life and death, the girl learns her name: Lailah. But when the lines between black and white begin to blur, where in the spectrum will she find her place? And with whom?
Gabriel and Jonah both want to protect her. But Lailah will have to fight her own battle to find out who she truly is.
#
TEAMGABRIEL
100 % Team Gabriel because he is such a gentleman. He treats Lailah with respect
and he is very protective of his team. I go for the good guys! (Jonah is so rude and controlling!)
A lot of people I know have been raving about Lailah and truth be told, I was hesitant that I may get disappointed. But,
WOW! IT. DIDN'T. DISAPPOINT.
I am glad F&F pitched this trilogy.
Nikki has very well mixed angels and vampires
. She can definitely write and words just flowed effortlessly. I love the writing style and
vividness of the imagery. The book is set in Europe! (Anything set in Europe is amazing!)
I admit that in the first few chapters, I kind of hated Lailah for her indecisiveness. For starters, she is torn between Gabriel and Jonah. There is an explanation why she is drawn to both and she even
makes you root for both Gabriel and Jonah.
Nikki weaved the romance aspect well to the story.
Yes, Lailah gets annoying at times but you will know more; just read on! (Do NOT give up. I do not want to spoil anything for you.)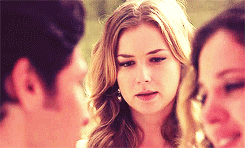 (When Lailah sees Gabriel with another girl.
Yaaay, #TeamGabr

iel!

)
The ending was heart-stopping! I could not concentrate because there's already a movie version playing on my head. Somebody adapt this to small screen (or better yet, the big screen!)
I DEMAND FOR THE SECOND BOOK
now especially after reading the bonus content.
I was hooked and those last few chapters kept on the edge of my seat.
The romance and the action blended well.
I am not a fan of paranormal YA, but this was fast-paced, action-packed, and full of twists and turns. EXCELLENT START OF A TRILOGY!
Gabriel

is the babe! 'Nuff said!
Before I had the chance to read this book, I saw some one-star reviews. After reading reading those reviews, I started having second thoughts on reading Lailah because I'm afraid I'm going to be one of those people who got disappointed in the end. Luckily, I wasn't disappointed!
As for the main character, Lailah, I
kind of
don't like her. Her actions annoy me but at some point, I want to be her for a day. She has a hot and gorgeous rogue Angel (Gabriel) protecting her. Seriously, who wouldn't want that? I'm not a big fan of vampires but there's also a hot Vampire (Jonah) in this book.
Come on, what's not to like?!
Nikki Kelly's writing style is on point. It's clear and very easy to understand. I. LOVE. IT. I seriously wasn't expecting the twists, I was mind-blown. I'm a fan of paranormal romance and I can say that this is a good one.
The ending was indeed heart-stopping. I couldn't concentrate because a lot is happening. Someone is fighting here and there. Definitely awesome.
MY REACTION WHILE READING THE LAST FEW CHAPTERS: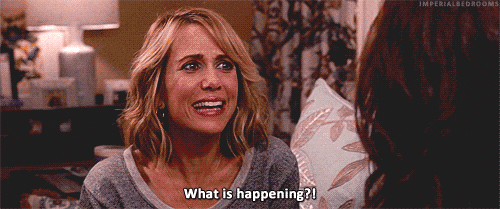 Lailah is a fast-paced and action-packed paranormal romance filled with twists. Recommended for paranormal romance lovers. I'm definitely looking forward to read book two -- I want more Gabriel hotness.
Need I say more?