Waiting on Wednesday is a weekly meme hosted by Jill from
Breaking the Spine
, which spotlights upcoming releases that we're eagerly anticipating!
Carmel's WoW Pick: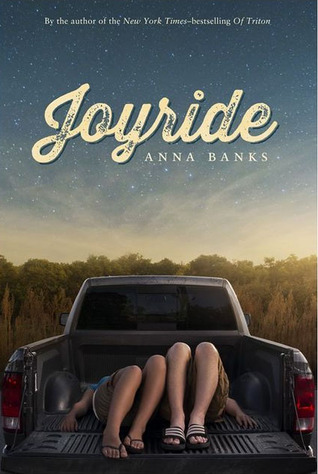 JOYR
I
DE
by
Anna Banks
Genre: Young Adult Contemporary
Expected Release Date: June 2nd 2015
(Feiwel & Friends)
:
A popular guy and a shy girl with a secret become unlikely accomplices for midnight pranking, and are soon in over their heads—with the law and with each other—in this sparkling standalone from NYT-bestselling author Anna Banks.

It's been years since Carly Vega's parents were deported. She lives with her brother, studies hard, and works at a convenience store to contribute to getting her parents back from Mexico.

Arden Moss used to be the star quarterback at school. He dated popular blondes and had fun with his older sister, Amber. But now Amber's dead, and Arden blames his father, the town sheriff who wouldn't acknowledge Amber's mental illness. Arden refuses to fulfill whatever his conservative father expects.

All Carly wants is to stay under the radar and do what her family expects. All Arden wants is to NOT do what his family expects. When their paths cross, they each realize they've been living according to others. Carly and Arden's journey toward their true hearts—and one another—is funny, romantic, and sometimes harsh.

This
article
got me excited for Joyride. TOO excited even! Anna talks about a
little
field trip that ended up in jail. You have to read the whole interview. Anna shared bits about her "mundane" childhood.
Mind you, if either of my parents were still alive, I would not be uttering a word about it. It's been an unspoken if-you-talk-about-this-death-may-befall-you subject in my family for years.
Anna, your secret is safe with the internet. I wish I could have a great adventure like that!
About Anna Banks:
N
YT Bestselling YA author of The Syrena Legacy series: OF POSEIDON (2012) OF TRITON (2013) OF NEPTUNE (2014). Repped by rockstar Lucy Carson of the Friedrich Agency. I live with my husband and daughter in the Florida Panhandle. I have a southern accent compared to New Yorkers, and I enjoy food cooked with real fat. I can't walk in high heels, but I'm very good at holding still in them. If you put chocolate in front of me, you must not have wanted it in the first place.