Waiting on Wednesday is a weekly meme hosted by Jill from Breaking the Spine,
which spotlights upcoming releases that we're eagerly anticipating!
Genre/s: Young Adult - Contemporar

y,

Romance
Expected Release Date:

September

1st 2015
(

Delac

orte Press)
GOODREADS SYNOPSIS:
This innovative, heartfelt debut novel tells the story of a girl who's literally allergic to the outside world. When a new family moves in next door, she begins a complicated romance that challenges everything she's ever known. The narrative unfolds via vignettes, diary entries, texts, charts, lists, illustrations, and more.

My disease is as rare as it is famous. Basically, I'm allergic to the world. I don't leave my house, have not left my house in seventeen years. The only people I ever see are my mom and my nurse, Carla.

But then one day, a moving truck arrives next door. I look out my window, and I see him. He's tall, lean and wearing all black--black T-shirt, black jeans, black sneakers, and a black knit cap that covers his hair completely. He catches me looking and stares at me. I stare right back. His name is Olly.

Maybe we can't predict the future, but we can predict some things. For example, I am certainly going to fall in love with Olly. It's almost certainly going to be a disaster.
A
dd
EV

ERYTHING,
EVERYTHING

to your TBR shelf on
Goodreads
!
*

drools while staring at the pretty cover*

I'm a sucker for gorgeous covers. Really.
I saw this book via Twitter last week because of the cover reveal post from YA Highway.
I did
NOT
regret checking out the post because I found this pretty book. I immediately added it to my TBR shelf after seeing the cover and reading the
promising
synopsis.
This is another reason to be more excited for 2015!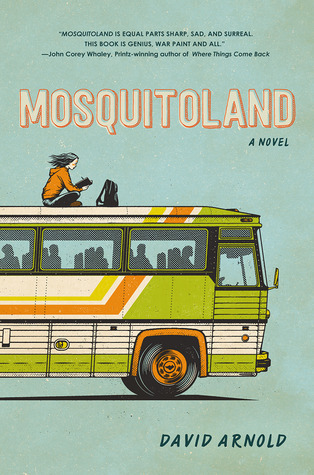 MOSQU

I

TOLAND
by
David Arnold
Genre: Young Adult Contemporary
Expected Release Date: March 3rd 2015
(Viking Juvenile)
:
GOODREADS SYNOPSIS:
"I am a collection of oddities, a circus of neurons and electrons: my heart is the ringmaster, my soul is the trapeze artist, and the world is my audience. It sounds strange because it is, and it is, because I am strange."

After the sudden collapse of her family, Mim Malone is dragged from her home in northern Ohio to the "wastelands" of Mississippi, where she lives in a medicated milieu with her dad and new stepmom. Before the dust has a chance to settle, she learns her mother is sick back in Cleveland.

So she ditches her new life and hops aboard a northbound Greyhound bus to her real home and her real mother, meeting a quirky cast of fellow travelers along the way. But when her thousand-mile journey takes a few turns she could never see coming, Mim must confront her own demons, redefining her notions of love, loyalty, and what it means to be sane.

Told in an unforgettable, kaleidoscopic voice, "Mosquitoland" is a modern American odyssey, as hilarious as it is heartbreaking.
The moment I read the word "oddities" I know that I have to read this!!! I think Mosquitoland is definitely gonna hit home and life is never the same! I CANNOT WAIT TO READ THIS!!! I hope I win advance copies! Speaking of advance copies, there's an ongoing Goodreads giveaway!

GO ENTER HERE!
(US ONLY)
What book(s) are you eagerly anticipating? Let us know in the comment section below!