Welcome to our first Top Ten Tuesday feature of the year 2015! Today, we are going to feature our ten most anticipated debut novels. Kyla gets the first five. I (Carmel) gets the second half. Do you have these books on your list?
Expected

Publication:
April 21st 2015 by Feiwel & Friends
Forget everything you thought you knew about genies!
Azra has just turned sixteen, and overnight her body lengthens, her olive skin deepens, and her eyes glisten gold thanks to the brand-new silver bangle that locks around her wrist. As she always knew it would, her Jinn ancestry brings not just magical powers but the reality of a life of servitude, as her wish granting is controlled by a remote ruling class of Jinn known as the Afrit.
To the humans she lives among, she's just the girl working at the snack bar at the beach, navigating the fryer and her first crush. But behind closed doors, she's learning how to harness her powers and fulfill the obligations of her destiny.
Mentored by her mother and her Zar "sisters", Azra discovers she may not be quite like the rest of her circle of female Jinn . . . and that her powers could endanger them all. As Azra uncovers the darker world of becoming Jinn, she realizes when genies and wishes are involved, there's always a trick.
(Add to Goodreads)
AL

I

VE
by
Chandler Baker
Expected Publication:
June 9th 2015 by Disney-Hyperion
Stella Cross's heart is poisoned.

After years on the transplant waiting list, she's running out of hope that she'll ever see her eighteenth birthday. Then, miraculously, Stella receives the transplant she needs to survive.

Determined to embrace everything she came so close to losing, Stella throws herself into her new life. But her recovery is marred by strange side effects: Nightmares. Hallucinations. A recurring pain that flares every day at the exact same moment. Then Stella meets Levi Zin, the new boy on everyone's radar at her Seattle prep school. Stella has never felt more drawn to anyone in her life, and soon she and Levi are inseparable.

Stella is convinced that Levi is her soul mate. Why else would she literally ache for him when they are apart?

After all, the heart never lies...does it?
(Add to Goodreads)
I AM HER
REVENGE

The book is about a girl named Vivian who was raised with one goal: to exact vengeance on the man who broke her mother's heart two decades earlier. Enrolled at an English boarding school, Vivian targets an innocent senior named Ben as part of the revenge plot. But, as the plan is set into motion, Vivian "starts to uncover secrets so dark and deadly that they threaten to unravel the very being that Mother worked so hard to create.
(Add to Goodreads)
CONV

I

CTION
Expected Publication: May 19th 2015 by Disney Hyperion
"Now faith is the assurance of things hoped for, the conviction of things not seen."

Ten years ago, God gave Braden a sign, a promise that his family wouldn't fall apart the way he feared.

But Braden got it wrong: his older brother, Trey, has been estranged from the family for almost as long, and his father, the only parent Braden has ever known, has been accused of murder. The arrest of Braden's father, a well-known Christian radio host, has sparked national media attention. His fate lies in his son's hands; Braden is the key witness in the upcoming trial.

Braden has always measured himself through baseball. He is the star pitcher in his small town of Ornette, and his ninety-four-mile-per-hour pitch al- ready has minor league scouts buzzing in his junior year. Now the rules of the sport that has always been Braden's saving grace are blurred in ways he never realized, and the prospect of playing against Alex Reyes, the nephew of the police officer his father is accused of killing, is haunting his every pitch.

Braden faces an impossible choice, one that will define him for the rest of his life, in this brutally honest debut novel about family, faith, and the ultimate test of conviction.
(Add to Goodreads)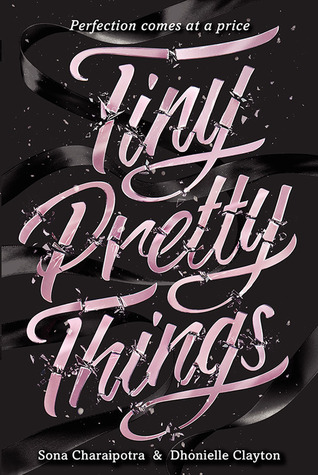 Black Swan meets Pretty Little Liars in this soapy, drama-packed novel featuring diverse characters who will do anything to be the prima at their elite ballet school.
Gigi, Bette, and June, three top students at an exclusive Manhattan ballet school, have seen their fair share of drama. Free-spirited new girl Gigi just wants to dance—but the very act might kill her. Privileged New Yorker Bette's desire to escape the shadow of her ballet star sister brings out a dangerous edge in her. And perfectionist June needs to land a lead role this year or her controlling mother will put an end to her dancing dreams forever. When every dancer is both friend and foe, the girls will sacrifice, manipulate, and backstab to be the best of the best.
(Add to Goodreads)
NOT
AFTER EVERYTHING
by
Michelle Levy
Expected publication: August 4th 2015 by Dial
A gritty but hopeful love story about two struggling teens—
great for fans of The Spectacular Now, Willow, and Eleanor and Park

Tyler has a football scholarship to Stanford, a hot girlfriend, and a reliable army of friends to party with. Then his mom kills herself. And Tyler lets it all go. Now he needs to dodge what his dad is offering (verbal tirades and abuse) and earn what his dad isn't (money). Tyler finds a job that crashes him into Jordyn, his former childhood friend turned angry-loner goth-girl. She brings Tyler an unexpected reprieve from the never-ending pity party his life has become. How could he not fall for her? But with his dad more brutally unpredictable than ever, Tyler knows he can't risk bringing Jordyn too deeply into the chaos. So when violence rocks his world again, will it be Jordyn who shows him the way to a hopeful future? Or after everything, will Tyler have to find it in himself?
(Add to Goodreads)
EVEN WHEN
YOU
LIE
TO ME
by
Jessica Alcott
June 9th 2015 by Crown Books for Young Readers
Fans of John Green's Looking for Alaska as well as Lauren Oliver and Sarah Dessen will embrace this provocative debut novel, an exploration of taboo love set against the backdrop of a suburban high school.

Charlie, a senior, isn't looking forward to her last year of high school. Another year of living in the shadow of her best friend, Lila. Another year of hiding behind the covers of her favorite novels. Another year of navigating her tense relationship with her perfectionist mom.

But everything changes when she meets her new English teacher. Mr. Drummond is smart. Irreverent. Funny. Hot. Everyone loves him. And Charlie thinks he's the only one who gets her.

She also thinks she might not be the only one with a crush.

In this stunning debut, Jessica Alcott explores relationships-and their boundaries-in a way that is both searingly honest and sympathetic.
(Add to Goodreads)
by
Catherine Doyle
Expected publication: February 24th 2015 by Scholastic Inc.
When it comes to revenge, love is a dangerous complication.With a fierce rivalry raging between two warring families, falling in love is the deadliest thing Sophie could do. An epic debut set outside modern-day Chicago.

When five brothers move into the abandoned mansion in her neighborhood, Sophie Gracewell's life changes forever. Irresistibly drawn to bad boy Nicoli, Sophie finds herself falling into a criminal underworld governed by powerful families. As the boys' dark secrets begin to come to light, Sophie is confronted with stinging truths about her own family, too. She must choose between two warring dynasties - the one she was born into, and the one she is falling in love with. When she does, blood will spill and hearts will break.
(Add to Goodreads)
Expected publication: March 3rd 2015 by Viking Children's
"I am a collection of oddities, a circus of neurons and electrons: my heart is the ringmaster, my soul is the trapeze artist, and the world is my audience. It sounds strange because it is, and it is, because I am strange."
After the sudden collapse of her family, Mim Malone is dragged from her home in northern Ohio to the "wastelands" of Mississippi, where she lives in a medicated milieu with her dad and new stepmom. Before the dust has a chance to settle, she learns her mother is sick back in Cleveland. S
o she ditches her new life and hops aboard a northbound Greyhound bus to her real home and her real mother, meeting a quirky cast of fellow travelers along the way. But when her thousand-mile journey takes a few turns she could never see coming, Mim must confront her own demons, redefining her notions of love, loyalty, and what it means to be sane.

Told in an unforgettable, kaleidoscopic voice, "Mosquitoland" is a modern American odyssey, as hilarious as it is heartbreaking.
(Add to Goodreads)
by
Maggie Hall
January 13th 2015 by Putnam Juvenile
To fight her destiny as the missing heir to a powerful and dangerous secret society, sixteen-year-old Avery West must solve an ancient puzzle in a deadly race across Europe. Forbidden love and code-breaking, masked balls and explosions, destiny and dark secrets collide in this romantic thriller, in the vein of a YA DaVinci Code.
Avery West's newfound family can shut down Prada at the Champs-Elysees when they want to shop in peace, and can just as easily order a bombing when they want to start a war.
They are part of a powerful and dangerous secret society called the Circle of Twelve, and Avery is their missing heir. If they discover who she is, some of them will want to use her as a pawn. Some will want her dead.
To thwart their plans, Avery must follow a trail of clues from the landmarks of Paris to the back alleys of Istanbul and through a web of ancient legends and lies. And unless she can stay one step ahead of beautiful, volatile Stellan, who knows she's more than she seems, and can decide whether to trust mysterious, magnetic Jack, she may be doomed after all. (Add to Goodreads)
What do you think of our picks?
Link up your Top 10 picks on the comments below! We like visiting other blogs!