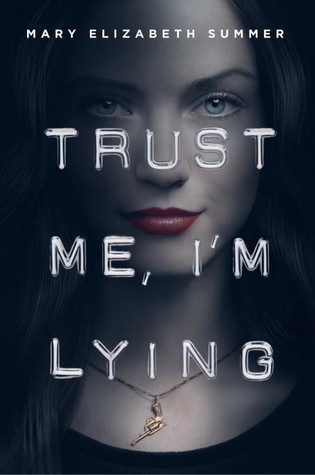 TRUST ME,
I'M LYING

(Trust Me #1)

Young Adult - Contemporary, Mystery/Thriller

Fans of Ally Carter, especially her Heist Society readers, will love this teen mystery/thriller with sarcastic wit, a hint of romance, and Ocean's Eleven–inspired action.

Julep Dupree tells lies. A lot of them. She's a con artist, a master of disguise, and a sophomore at Chicago's swanky St. Agatha High, where her father, an old-school grifter with a weakness for the ponies, sends her to so she can learn to mingle with the upper crust. For extra spending money Julep doesn't rely on her dad—she runs petty scams for her classmates while dodging the dean of students and maintaining an A+ (okay, A-) average.

But when she comes home one day to a ransacked apartment and her father gone, Julep's carefully laid plans for an expenses-paid golden ticket to Yale start to unravel. Even with help from St. Agatha's resident Prince Charming, Tyler Richland, and her loyal hacker sidekick, Sam, Julep struggles to trace her dad's trail of clues through a maze of creepy stalkers, hit attempts, family secrets, and worse, the threat of foster care. With everything she has at stake, Julep's in way over her head . . . but that's not going to stop her from using every trick in the book to find her dad before his mark finds her. Because that would be criminal.
Trust Me, I'm Lying is one of the best young adult mystery/thriller novels I've ever read! I enjoyed it from the very beginning until the end. Even though I didn't expect it to break my heart into a million pieces, I still
LOVE
it. I'd recommend it to mystery/thriller lovers. And I can't express how much I am excited to read the second book,
TRUST ME, I'M TROUBLE
! See my full review,
here
.
The author of TRUST ME, I'M LYING,
Mary Elizabeth Summer
, gave me a chance to interview her. Check it out below:
1. Your debut novel is Trust Me, I'm Lying, for those who don't know, could you tell us more about your novel?
Sure! Julep Dupree, our intrepid heroine, is a con artist, forger, and master of disguise. She's also a sophomore at St. Agatha High, a fancy private school in Chicago. She was trained in the fine art of grifting by her father, who is a pretty decent guy, all things considered, with the exception of a few flaws, like a weakness for betting (and losing) all his money on the ponies. Julep pulls cons for her classmates and charges them for it so she can afford tuition at St. Agatha's.
Then one day she comes home to find her father is missing and their apartment's been trashed. She and her hacker partner, Sam, as well as St. Agatha's golden-boy--hot, mysterious Tyler--must follow the trail of clues Julep's father left her, dodging bullets, deans, and cops along the way.
It's about 90% criminal shenanigans, 5% romance, and 5% ouch.

:-)
2. Have you always wanted to be a writer?
Off and on.

I wanted to be an astronaut for pretty much all of high school.

(Like, for real--I went to Space Camp and everything.) But I loved writing stories from an early age, so in college, when I finally acknowledged that science isn't exactly my strong suit,

I switched majors from physics to creative writing and never looked back.
3. What is the best part of being an author?
Getting to know all the peoples in the book industry.

It's its own world, really, and being even just a small part of it is inspiring.

I love networking with and getting to geek out over books with other book nerds. Especially YA/MG book nerds.

It is truly my happy place.

That's the best part about being a
published
author.

The best part about being an author of any kind is the writing itself. There are a lot of difficulties you have to traverse being published--rejection, harsh reviews, being one tiny voice in a sea of other talented voices--but whenever the struggle weighs me down, spending time with the characters in my head always, always cheers me up.

Writing really is its own reward.
4. What can readers look forward to in your upcoming works?
Trust Me, I'm Lying is the first in a series.

The second book, Trust Me, I'm Trouble is already written and edited and on its way to becoming a book as well.

It'll be released in October 2015.

There's also a Julep novella coming out in between books 1 and 2. And I'm going to pitch a book 3 to my editor sometime really soon (hopefully they'll go for it!).
5
. Recommend your book.
TRUST ME, I'M LYING
is witty, fast-paced, and full of twists
. Just when you think you know what's going on, Julep will spring one last surprise. (She's capricious like that.) But don't go into this thinking its a walk in the park.
Actions have consequences, even for world class grifters
.
No one is safe. And no one is who you think they are.
To Mary Elizabeth Summer; thanks for letting me interview you. It was really an honor.
...WAIT!
Don't go yet! There's more!
G

IVEAWAY
Get the chance to win a
SIGNED
copy of TRUST ME, I'M LYING!
Open worldwide, ends on 2/2. If you do have questions, please free to contact me or check the
giveaway policy
.
a Rafflecopter giveaway
Troglodyte

forever,

Leave your thoughts in the comment section below!