Remember my
WoW post
? TODAY IS THE DAY I GET TO INTERVIEW NIKKI ABOUT THE HIT LIST!!! (Okay, stop with all caps!) I am just so excited to interview Nikki Urang and of course, share a giveaway with you! Please welcome her to the blog! She will talk about her novel
The Hit List
, which was released November of last year by Spencer Hill Contemporary.
How did you come up with the idea of THE HIT LIST?
I'd always wanted to write a
book featuring a dancer
, but I didn't really know what kind of conflict there would be. I knew I wanted
something that involved trust
because Sadie has huge issues with it. That's where the game came in. She already doesn't trust anyone and now she's in an environment where no one should be trusted. A similar game also started at my high school at the end of my senior year. The next senior class was betting on who could sleep with an incoming freshman the fastest.
Do you see yourself in the one of your characters?

I think I share traits with several of my characters, but I don't think any of them as a whole is similar to me. I wouldn't want them to be. Part of the fun of writing is to explore a new character who does things I would never even think to do or consider doing in some cases.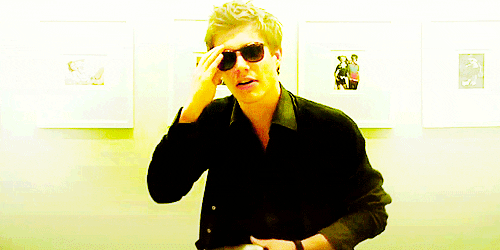 If THE HIT LIST would be made into a movie, who would you like to cast?
When I'm writing, I usually don't have a great physical image of my characters. It wasn't until I started mixing up hair and eye color that I actually sat down to find pictures of them. These are the people I think match the physical descriptions of my characters:
Emma Roberts
(Sadie),
Xavier Samuel
(Luke), Leighton Meester (Brielle), and Logan Lerman (Adam).
What's next for Nikki Urang?
I have two completed YA contemporary books that I'm hoping to do something with soon. I've also started
writing a YA horror
. I love writing about darker themes and everything I've been writing lately has tackled some pretty difficult issues.
Add THE HIT LIST on Goodreads!
If you could be a
fictional character
for a day, who would you be and why?
Oh wow. Most of my favorite books feature people who actually have pretty terrible lives. I'm going to stick with the Harry Potter theme here and go with
Hermione Granger
because she's badass. Plus, I'd kind of want to be able to use a wand and do spells for a day.
What are your
three current wishes
?
That's a tough one. My first wish would be more time in the day so I had more hours to devote to writing and life. The second would be to have a huge
library in my house with a never-ending supply of books
. And the third would probably be to move to London because I've wanted to do that for the longest time.
Ice cream or Chocolate?
Chocolate
Pizza or Burger?
Pizza
Cookies or Cupcakes?
Cupcakes
Twitter or Facebook?
Twitter
Coke or Pepsi?
Pepsi
About Nikki Urang:
N
ikki fell in love with books at a young age and looked forward to reading a book with her mom before bed every night. It was only a matter of time until her love of reading turned into a love of putting those words onto the page. Now, her days are spent helping people overcoming opiate addiction and her nights are spent writing. She lives in Minnesota with her husband and two stubborn cats. Her debut, THE HIT LIST, is available now from Spencer Hill Contemporary.

Thank you Nikki for the chance to chat with you!