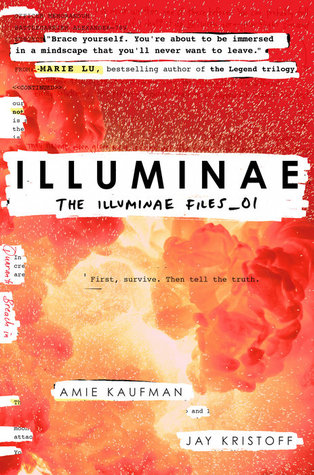 Young Adult - Science Fiction
Publication: October 20th 2015 by Knopf Books for Young Readers
Add this book to Goodreads!
GOODREADS SYNOPSIS:
This morning, Kady thought breaking up with Ezra was the hardest thing she'd have to do.

This afternoon, her planet was invaded.

The year is 2575, and two rival megacorporations are at war over a planet that's little more than an ice-covered speck at the edge of the universe. Too bad nobody thought to warn the people living on it. With enemy fire raining down on them, Kady and Ezra—who are barely even talking to each other—are forced to fight their way onto an evacuating fleet, with an enemy warship in hot pursuit.

But their problems are just getting started. A deadly plague has broken out and is mutating, with terrifying results; the fleet's AI, which should be protecting them, may actually be their enemy; and nobody in charge will say what's really going on. As Kady hacks into a tangled web of data to find the truth, it's clear only one person can help her bring it all to light: the ex-boyfriend she swore she'd never speak to again.

Told through a fascinating dossier of hacked documents—including emails, schematics, military files, IMs, medical reports, interviews, and more—Illuminae is the first book in a heart-stopping, high-octane trilogy about lives interrupted, the price of truth, and the courage of everyday heroes.

Can Max find the real killer before he goes to prison for a crime he didn't commit? In a story that Kirkus Reviews called "Captivating to the very end," Paula Stokes starts with one single white lie and weaves a twisted tale that will have readers guessing until the explosive final chapters.
I don't even know where to start. All I know is
YOU HAVE TO READ THIS!
Illuminae is probably the
BEST
of YA Sci-Fi!
It's visually entertaining because this is bloody brilliant book is an epistolary novel told through reports, instant messages, interviews, hacked files. It's so
FUN
and
REFRESHING
to read a book like Illuminae.
To be honest, I was hesitant when I was starting the book. Normally, I would not read science fiction novels, but Illuminae is definitely an exception. It's started out really fast and I was smacked in the middle of an invasion.

I totally did not expect that the authors could weave to the already complicated story a dash of romance. I thought I would get annoyed thinking that the romance would just ruin the book. BUT BOY I WAS WRONG! I ENDED UP ROOTING FOR EZRA AND KADY!




I think the greatest strength of this Illuminae is Kady, the rebellious hacker. The authors were able to make Kady such a powerful young woman! Damn, she's bad-ass! She reminded me of Katniss Everdeen and no one even comes close to Katniss on my list. I personally admire Kady for being so strong despite all the diabolical circumstances.


Illuminae is now setting the bar on how Young Adult books should be. It's unique, creative, action-packed, intense, all in one huge book! I will definitely look forward to the next books in the trilogy. Everyone should read this. Illuminae undoubtedly stands out from the rest!
I have never thought that I would get the chance to read Illuminae.
Physically
. Before it was even published, there were already a lot of pictures of Illuminae (ARCs, different versions of the book; from paperback, hardback, to Audio even) circulating around the bookish world. It looked really cool. That was the first time that I've seen an
ARC in hardcover
! CAN YOU BELIEVE THAT?!
When I first checked it out on Goodreads, I wasn't ready for it yet because I felt like it was heavy (
futuristic, not set in Earth and all that stuff
). You see, I'm not a full-blown SciFi geek so I don't know what to expect from Illuminae but I hoped it will be great. People at Twitter are always talking about it. About how amazing it was. About how beautiful it was.
Blah
,
blah
,
blah
. And since it was getting all hyped up, I always reminded myself not to raise my expectations so high because maybe it'll disappoint me in the end.
The reason that I got the chance to read Illuminae is because I got an email about a blog tour for this book and I couldn't just stop myself so I signed up! In that way, I'll get to experience the goodness of the book personally. So the time finally came and the book arrived, I was so happy because "
Yay! I FINALLY have it in my hands
!" "
I'm holding such beautiful book
!" "
I'm going to read one of 2015's highly anticipated YA novel
!"
Okay, I'll stop blabbering now. Let's move on to my actual review.
If I had to describe Illuminae in one word, it would be:
brilliant
. I couldn't compare it to anything because I've never read a book like Illuminae before. It's original. This is definitely one of the best YA scifi novels! Trust me.
The content was
refreshing
,
creative
, and
fun
. I enjoy every page of this book, it entertained me and kept in my room for HOURS. I swear. Even though it's already time to eat dinner, I did NOT stop. I just continued reading until I decided I was too hungry already. ;)
Kady Grant is the epitome of BAD-ASS
. She is everything I want to be. She's sassy, smart, and fearless. I love how she works with computers (yes, she's hacker!!!).
Awww
,
I just adore her
. All of the characters were flawed but genuine. If I had to describe Ezra Mason in a sentence it would be:
"he is the cheesiest human being fictional character alive."
If you're wondering if this book has romance, yes it has but don't worry! It didn't overpower the story. In fact, it made the story better. It's da cute kind of romance between Kady an Ezra. I ship them so hard. I AM ROOTING FOR YOU, GUYS.
Do not fail me
.
Kaufman and Kristoff worked great together. They created such magnificent story.
I WISH I HAD THEIR WRITING SKILLS. You guys are my #goals.
Continue on creating such wonderful stories!!!!!
If you're looking for an action-packed, unique, and romantic (yes!!!) novel then Illuminae is for you!
Are you dying to read ILLUMINAE?
Do you want to have your own copy of ILLUMINAE?
Do you want to experience the goodness of ILLUMINAE firsthand?
If your answer to the questions above are all
YES
then you're in to win a HARDCOVER copy of ILLUMINAE by Jay Kristoff + Amie Kaufman!
Did I mention it was
hardcover
? Yes, that's right, you'll get to win the beautiful hardcover edition of ILLUMINAE.
But before you enter, please read the rules
carefully
.
RULES:
This contest is open for PHILIPPINE RESIDENTS ONLY. Sorry, INTL folks!

You must be 13 years or older, or have parents' permission to enter.

All your entries will be disqualified if you pickup entries for something you haven't done. (I had to do this for so many of my last giveaways, please don't make me do this again.)

If you only use ONE account to do all these tasks and enter under different names, they will still only constitute as ONE entry.

If the winner does not respond to my e-mail within 48 hours, he/she will be disqualified. Then I will have to choose another winner.

I am not responsible for any items lost in the mail.
Big thanks to Random House Kids and Pinoy Book Tours for making this possible!