July is my birth month so I'm pretty excited for this month's Backlist book! In case you missed it,
Mina Esguerra
and I
are doing
Backlist Revival Project
to help bring attention, new reviews, and new readers to books that are a few years old. We will feature a book per month and the featured book of the month is a contemporary romance that was published in 2014 or earlier. So, if you are interested to REVIEW books by Filipino authors, please let us know.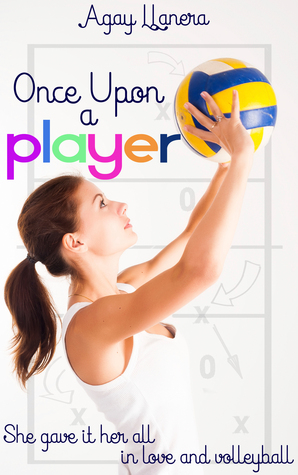 Once upon a
Player
Publication Date: August 9th 2014
Genre: New Adult Romance
Gorgeous college senior Val Fabian is a player in every sense of the word. She's the star spiker of her university's volleyball team, and she never runs out of dates. But it seems that this year, she has finally been bitten by the commitment bug. She sets her sights on an unexpected target--the unassuming yet ultra-cute Jake Clementia. Val is used to getting what she wants, and is sure she'll snag him before graduation. But in the process of winning his heart, she is sideswiped by a surprise move that sends her tumbling from her pedestal.
Interview
Tell us what is Once upon a Player about in a length of a tweet.
As Val struggles to win the boy of her dreams, she is forced to choose between stealing his heart and hurting the person dearest to her.
What's the inspiration behind this book?
I'm a huge
UAAP
volleyball fan, and while I was watching one of the games (live at the arena!), I had this sudden idea of writing a romance story built around a bitchy star player, who's used to getting everything she wants.
What character do you wish you could pull out of a book?
Mr. Darcy
from
Pride and Prejudice
, of course! I would like to see this dashing, reserved gentleman in the flesh, uttering the very same words he'd confessed to Ms. Benett: "In vain have I struggled. It will not do. My feelings will not be repressed. You must allow me to tell you how ardently I admire and love you." (insert squealing here)
Can you think of 3 songs that go perfectly with your book?
Army by Elle Goulding to describe the friendship between Val and her best friend, Dessa
There She Goes by The La's to describe Val's effect on people
You're the Best Thing by The Style Council to describe the book's ending.



What was your favorite scene to write in
Once upon a Player
?
I enjoyed writing the part when Val was at her bitchiest, about to execute the biggest betrayal of all. The words came out in a rush, and I had to type fast to capture the scene in my head.hat's another tough question. Writing the Macau chapters were very enjoyable because I got to relive my own experiences (The PIE! incident really happened, guise!), but if I had to choose just one, the Macau Tower chapter stands out because writing friendly banter is always fun, and I got to explain why the MC was named Five. It was also one of the most challenging chapters to write because I had to make my imagination work overtime! Confession time: I visited the tower but I did not jump.